Home
Ozone and Hydroxyl Remediation
The Certified Ozone and Hydroxyl Remediator (COHR) course from BOI Environmental gives you the knowledge to assess and properly apply ozone and hydroxl generation for odor removal, disinfection, and restoration purposes. The Certified Ozone and Hydroxyl Remediator (COHR) qualifies for (14) Continuing Education Units from the IICRC
LIMITED TIME OFFER!
For a limited time, when you purchase any of the Ozone generators or Hydroxyl Generators from this website, you will receive the Ozone/Hydroxyl Remediation Course for FREE!


Earn 2 IICRC CEC credits for free!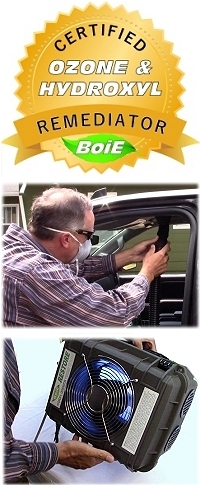 What You Will Learn in this Course
This course will teach you the skills and knowledge necessary to add ozone and hydroxyl generation to your existing business, or to start a new odor removal, sanitation or restoration business that uses this technology.
You will also learn how to inspect for the source of odor or sanitation problems and develop useful reports for your clients. You will learn how ozone affects the human body, what levels are dangerous, and the proper personal protective equipment (PPE).
As you complete each lesson, you will use interactive flash cards and take practice quizzes that will test and verify your knowledge simultaneously through instant online feedback. Your results are saved in the cloud so you can easily track your progress.
The course includes an Online DVD that takes you through equipment procedures outlined in the course. You can use the included report software templates to create Odor/Sanitation Assessment Reports for your clients. When you finish the course and pass the final exam, you will be a Certified Ozone and Hydroxyl Remediator (COHR) and possess the knowledge and skills needed to start a full or part-time business.
What You Will Master
Odor identification, prevention, and control
How to recommend corrective measures

Protocols for generating and applying ozone and hydroxyls

Best Practices for Ozone/Hydroxyl Treatment
Finding the source of odors in the home
Ethics for Odor Removal/Sanitation Services
Odor/Sanitation Assessment Reports
Virtual Package Includes:

Online Course, Business Start-up and Application Online DVD, Odor Survey Report Form (Word Format), Flashcards & Testing, COHR Certification, Toll Free Student Support, Free $149 Membership in NAMRI, the National Association of Mold Remediators and Inspectors, Free $149 InspectHost website, $399 Inspection Report Creator License with free 1-year subscription. Training is 100% online, no materials are shipped.

Course Lessons

1. Basic Science

2. Effects on Health

3. Ozone Standards

4. Ozone Generators

5. Hydroxyl Generators

6. Commercial Applications

7. Treatment Protocols

8. Business Start-up




Click the

add to cart

button below and proceed to the checkout to get signed up. You will be emailed a username/password to login and begin.




---